Keep up with latino leadership development here. Sign in to read additional members-only content. Favor de ingresar con su contraseña para leer contenido solo disponible a miembros.
LLI Reconfiguration for Coronavirus World
LLI will be reconfigured during March 2020 going forward. Watch this space for updates and procedures.
Check this internship opportunity!
Seattle Children's hospital is providing paid internship opportunities in its research division to minorities who are currently or soon will be in college.
LLI First Immersion Seminar
The 1st Immersion Seminar on February 8th, 2020 will be in the Multipurpose Room at Skagit Valley College starting at 9:00 AM.
This Saturday the 11th of January is the LLI Kick-Off. We will be located on the 1st floor of Brier Hall! Starting at 9:00 AM to 4:00 PM.
LLI 2013-17 introduction and kickoff agenda
Enjoy! ¡Disfrute!
LATINO LEADERSHIP INITIATIVE
2020 KICK-OFF AGENDA
Mistress of Ceremonies: Marisol Bejarano, LLI Graduate
Orientation for 2020 11 AM Jan 4!
Final preparations are in progress for LLI's seventh annual leadership course in 2020. Students and guests should plan to attend the orientation session on January 4 from 11 AM to 3 PM.

Download the orientation program at the following link. The program is subject to change.
Journaling, Website contributions promote teamwork
All participants are encouraged to keep notes and add commentary during their LLI experience.

Journaling provides contemporaneous notes that add to your effectiveness as a leader.

Journaling adds to the collective experience of the LLI community now and in the future.

Journaling helps you set expectations and measure results for yourself and the other members of your project team(s).

Journaling at LLI should include keeping a notebook with you at all times, writing daily or weekly summaries, and posting key information to your member profile, a forum, or the blog.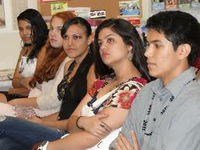 We are creating a Leadership Institute leadership to train Latino students to be leaders, not only in words, but in action. We already have 25 participants from 5 different colleges in 4 counties.
The Institute requires projects to assist the community with real and tangible results. We will emphasize helping young latinos to graduate from high school, because too many Latino kids are dropping out of school, and that affects the future of entire families.
This program aims to teach our youth to be multiplying agents, i.e. not only worry about their own betterment, but also the personal and social development of the people who surround them. A true leader inspires others to be better.
We need your help to fund this project. We will keep all donors informed about the use of funds and the results of the projects. Any amount helps. If we all donated the amount of a ticket or non-essential item we bought in the last six months, we would have enough to fund this program. Support opportunities appear in several places on the site starting
here
.
As this leadership Institute is administered by Latino Education & Training Institute (LETI), every contribution is
tax deductible
.
Thank you for your generosity.